Work with a fulfillment partner who gives a damn
Worried that using a fulfillment partner will lose that personal touch that makes your brand special? As store owners ourselves, we were too. That's why we started Nice Commerce.
Say sayonara to the stressful stuff
During those excitement-fueled early days, you probably weren't giddy at the idea of weighing parcels, dealing with shipping costs, and handling inventory management, right?

So why not get back to the stuff you love and leave all the other bits to the guys who actually DID start a company because they love fulfillment?
Here's how it works 👇
Any fulfillment partner can pick, pack and ship your stuff.
We go the extra mile so that every parcel we send feels exactly like it's been sent from your own garage or spare room, right from Day One.
Your Brand

Make sure everything we do feels like an extension of your brand.

Behind-the-scenes

Let us take all of those operational headaches off of your plate.

Customer Experience

Tell us exactly how you want your customers to feel and we'll deliver every time.

Custom Sops

Help us replicate everything you do, every single time we send an order.
What kind of standard operating procedures can I set up?
We want every order we fulfill to feel exactly like it came from you. So that means however you handle anything — whether that's adding a note to every order or a process for checking your returns — we'll document it and turn it into an SOP that our team can follow every single time we send out an order.
What's the onboarding process like?
Prepare to be prepared. This isn't just about getting your catalogue onto our system. We'll work together to clean up everything from your SKU structure to helping you set up an optimized shipping option for your customers. By doing that, we'll be able to help you improve your conversion rate and AOV before we've even touched an item of your stuff.
How can you improve my catalog during onboarding?
From the very first meeting, we'll be looking at ways to increase your AOV and improve your conversion rate. That means things like cleaning up your SKU structure and setting up optimized shipping options, but it also means doing things like a basket analysis of products your customers commonly buy together and then setting up bundles and upsells to increase your AOV.
Now it's time for the nitty-gritty
Let's get you set up on our software, get your products in our warehouse and get a load of stuff taken off of your plate.
Super-fast Fulfillment

Get every order placed sent directly to us to fulfill within 24 hours.

Automate Everything

Set different rules for first-time orders, repeat orders, and returns.

Customize Anything

Want to add a hand-written note? Customize first orders? Add discounts for repeat orders? Easy breezy.

Get Set Up

Send your products to us and Will in the warehouse will take care of them like they're his own.
What customizations can I set up?
The world is your oyster! We can create fully automated rules to personalize the customer experience based off features like customer type (think VIP, first-time, military, etc.) and order size. From there, set triggers for fully customize bundles, free gifts with purchase, handwritten notes, branded packaging, unique unboxing experience and more to wow your customers.
Will I need to manually send orders to Nice Commerce?
Not at all. As soon as everything is sorted, you can set it and forget it. The order will automatically arrive with us and we'll follow the SOPs you set up to deliver your awesome customer experiences at scale.
Does your software integrate with my store?
We integrate with every which way an eCommerce store can be set up, from Shopify (we're Shopify Partners) to WooCommmerce, Magento, Etsy, Amazon and eBay.
Now the fun starts.
Sure, we'll make sure you deliver great customer experiences every single time, but we'll also be there to help you grow your brand, make more money and live an easier life.
Fulfill in Real-Time

All orders placed before 2pm will ship the same day.

5 Star Experiences

Every single package we send will feel exactly like you'd packed it yourself. Same care. Same attention.

Growth Advice

We've helped more eCommerce brands grow than we can count. Hit us up for advice on anything.

On-call Support

Got a sticky situation? Having trouble with a customer? Give your dedicated Success Manager a call!
What's the average fulfillment time?
At the moment, our average fulfillment time is under 17 hours (including weekends). This means that your parcels are sent out within a day of the order being placed. And if the order is placed before 2 pm EST, it'll get shipped the very same day.
What's your shrinkage rate?
We don't believe in shrinkage. Shrinkage is an excuse that other 3PLs tell you to get you comfortable with losing 5% of your stock. Shrinkage comes from leaning on software to run inventory instead of trusting a quality team that cares about your stuff. In other words, shrinkage means lazy processes and careless work.

And that isn't us.

So while we can't guarantee absolutely no shrinkages — because, you know, everybody is human — we can confidently say that our shrinkage rate is pretty close to zero, even with CPGs.
Can I customize the presentation of an order based on the customer profile?
You definitely can. In fact, this is one of the reasons why we started Nice. We wanted to be able to give you the ability to create personalizations in your fulfillment the same way that you would in your digital marketing strategy or email campaigns.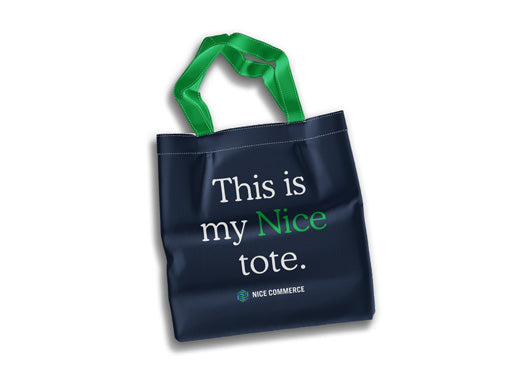 Want to put yourself in your customers' shoes?
We know how important it is to find a partner you trust to deliver awesome customer experiences every time. So why not snag yourself some free swag and see firsthand just how much care, attention, and personalization goes into every package we send. Use the code "NICEFREE" at checkout for a free tote and see for yourself.
Choosing a selection results in a full page refresh.
Press the space key then arrow keys to make a selection.