The 5 Best Shopify Apps You Didn't Know You Needed
There is so much to oversee when running an eCommerce store. From email marketing to site speed, customer experience to order fulfillment, it can be hard to optimize for efficiency and growth. And while store platforms like Shopify are robust in their offerings, utilizing apps can add new functionalities that change the game.
If you take a peep at the Shopify app store, you'll see 6,000 apps spanning every category you can imagine. And while your first reaction could be akin to a the giddyness of a kid in a candy store, you'll probably start to feel overwhelmed at how much noise you'll have to cut through to actually find useful apps that will save you time and headaches.
But never fear: to help you find some hidden gems, we taped a few store owner pals to share the Shopify apps they swear by to raise their AOV and manage operations.
Ademola shares his top three in the video above, with full deets, plus two more suggestions, to skim below.
Let's get straight to it:
5 Shopify Apps to Increase AOV and Manage Operations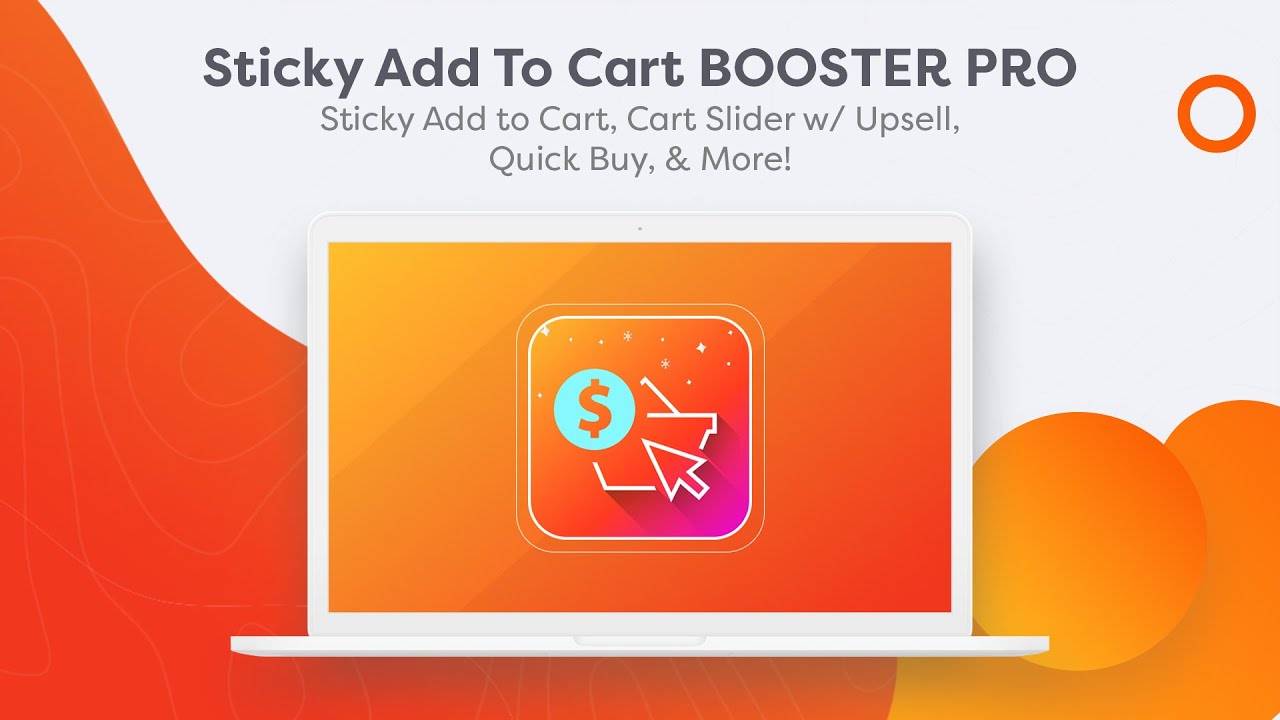 Average Rating: 4.9
Number of Reviews: 1,493
Price Range: $9-$40/mo
Recommended by: Ademola Adelakun
What it Does:
Sticky Add to Cart BOOSTER PRO enhances the customer experience by making the "add to cart" button sticky on your product page. As your customer scrolls down the product page, the cart button follows the customer so they can quickly add to cart without going back up to the original button placement.
Other features include adding a 1-click checkout function, quick buy button, cart slider, and time reserver for low inventory items.
Why We Love It:
Having your "Add to Cart" CTA always visible on your product page can increase your conversion rates by 8-10% and helps reduce cart abandonment.
What Others Are Saying: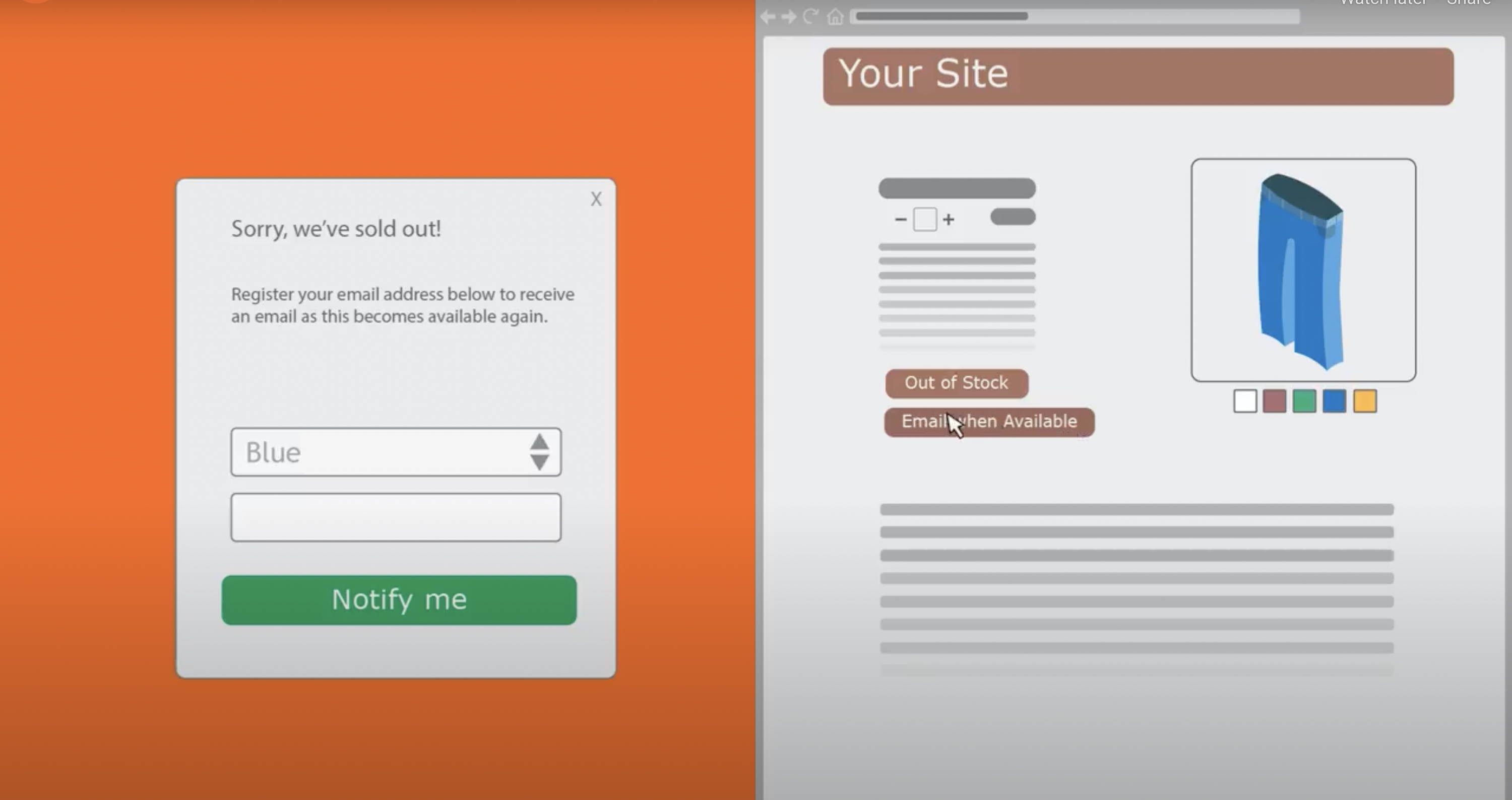 Average Rating: 4.8
Number of Reviews: 617
Price Range: Free-$70/mo
Recommended by: Gray Anderson
What it Does:
Instead of instantly losing sales when inventory runs out, give customers the option of receiving in-stock notifications using Back in Stock: Customer Alerts. Customers can sign up to get an automated push notification, email or SMS text message the moment their specific size or color is restocked.
The app doesn't just stop at in-stock notifications. Use it to send flash sales, coming soon, or pre-order notifications as well.
Why We Love It:
You can use the data it collects to track demand, which can better inform inventory order decisions in the future. You can also create campaigns around the "in-stock" notifications throughout multiple platforms to create a great customer experience.
What Others Are Saying: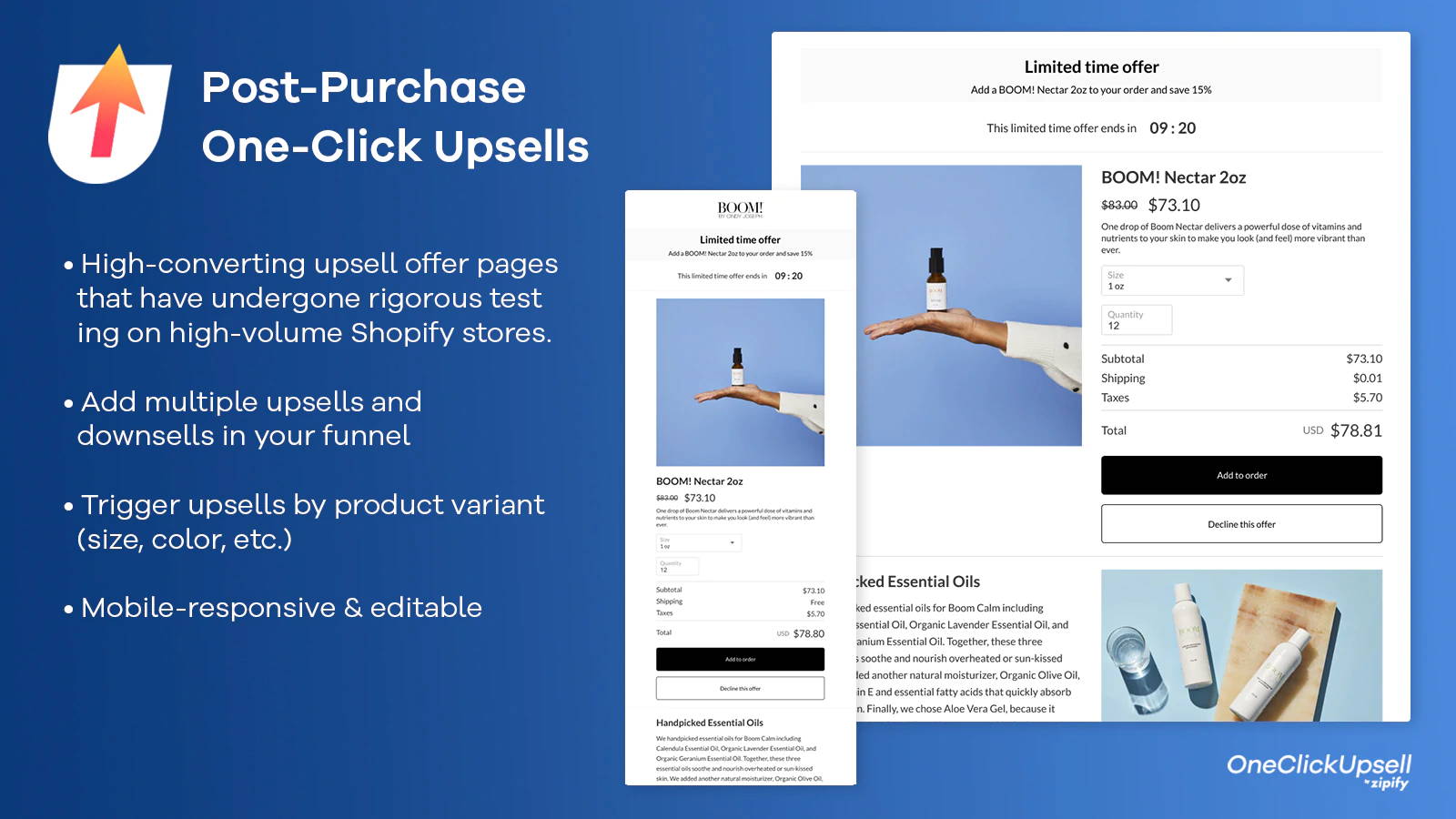 Average Rating: 4.7
Number of Reviews: 225
Price Range: Plans start at $35/mo
Recommended by: Ademola Adelakun
What it Does:
Zipify One Click Upsell helps store owners increase AOV and boost sales by creating automated pre- and post-purchase upsells.
For pre-purchase options: Set up custom rules to offer complimentary products, upgrades, or bundles after a product has been added to cart.
For post-purchase options: Instead of routing a customer straight to a thank you page after checkout, show them another product that is relevant to the one they just bought, and offer to add it to their previous order in just one click.
Why We Love It:
We love its built-in split testing to see which offers, quantities and creatives resonates best with customers. And the power to increase AOV is real: Ademola used Zipify and saw his AOV increase by 40% in 30 days!
What Others Are Saying: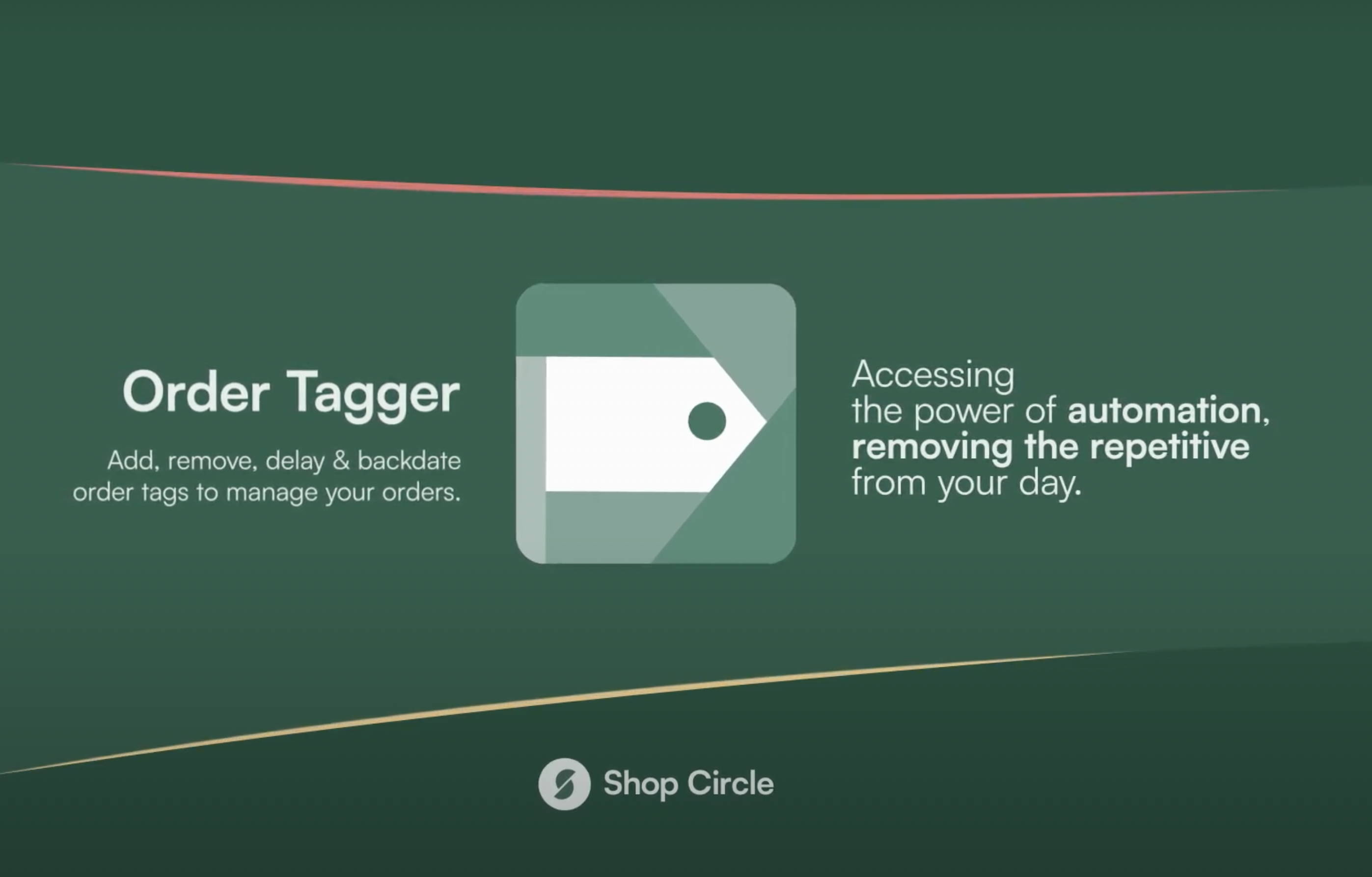 Average Rating: 5.0
Number of Reviews: 236
Price Range: Free - $16/mo
Recommended by: Gray Anderson
What it Does:
Use SC Order Tagger to make complex operations a breeze by setting up multi-condition criteria workflows that tag orders and trigger necessary order management actions. 
You can filter orders by all sorts of useful criteria saving you time and manual work while also improving the accuracy and efficiency of your shipping, fulfillment and order management processes.
Why We Love It:
Anything that can automate a repetitive function and save time gets an A+ in our book. We love using the data to gain insights on customers that can then be used for targeted marketing campaigns.
What Others Are Saying: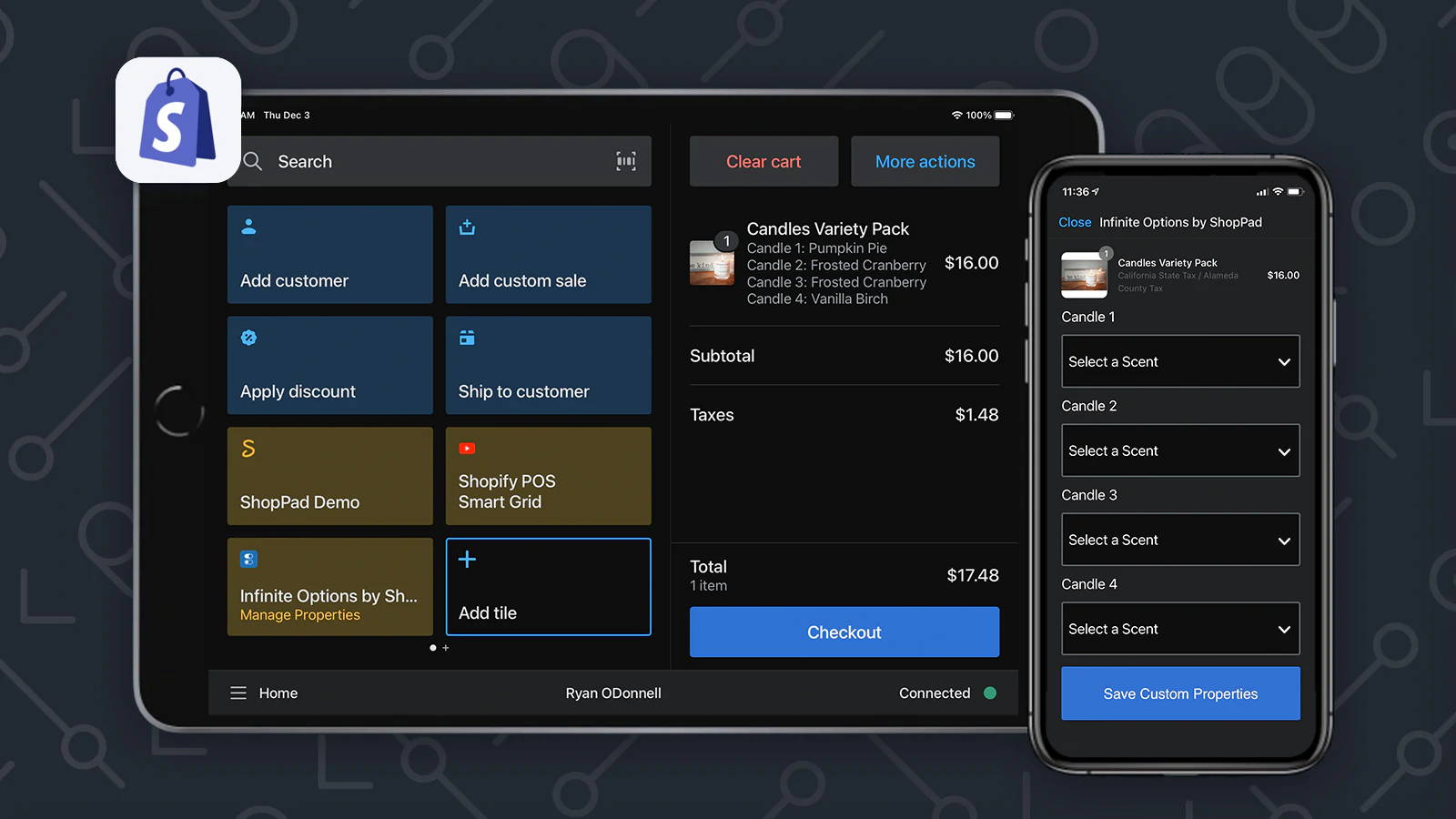 Average Rating: 4.8
Number of Reviews: 3,687
Price Range: $10/mo
Recommended by: Ademola Adelakun
What it Does:
Shopify allows 3 options of 100 variants for product options, which can be very limiting if you are wanting to create a custom experience for your customers. With Infinite Options, you can create LIMITLESS custom product options: engraving, embroidering, colors, bundling, gift wrap, you name it, you can do it.
Why We Love It:
We love it's ability to boost sales and increase AOV by offering bundling options. Want to offer $5 giftwrap or $15 rush shipping? Offer options for "build-your-own" sets? Offer complimentary accessories? The world is your oyster.
What Others Are Saying:

Choosing a selection results in a full page refresh.
Press the space key then arrow keys to make a selection.